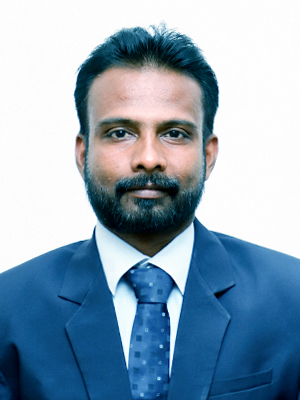 Mr. T. Kartheeswaran
B.Sc. (Hons) in ICT (Jaffna, SL), M.Sc. in Computer Science (Peradeniya, SL) Ph.D. (Reading)
Lecturer (Prob.) (On Study Leave)
karthees@vau.ac.lk


Academic Records
Ph.D. (Reading)
M.Sc. in Computer Science (Peradeniya, Sri Lanka)
B.Sc. (Hons) in ICT (Jaffna, Sri Lanka)
Admin Roles
Memberships
Student Counselor, Faculty of Applied Science
Member, Handbook Committee, Faculty of Applied Science
Member of Web Committee, Faculty of Applied Science
Previous Position
Lecturer (Probationary) in Computer Science and Technology (Feb 2015 – Dec 2016), Department of Computer Science and Technology, Uva Wellassa University, Badulla Sri Lanka
Activities
Supervision
H.D.P.Geethma , Smart Restaurant, Mobile App and Web Design Project, BIT External Degree Program , University of Moratuwa.
Resource Person
Resource Person, Fair Use of Social Media and Awareness, Youth Service Council, Vavuniya
Resource Person, Science Project Planning and Design, School Students, Mannar District
Institutional Development
Contributed to develop a new curriculum for the IT degree programme, Department of Physical Science, Vavuniya Campus, 2018
Teaching
Bioinformatics and Computational Biology
Advanced Computer Networks
Computer Architecture and Assembly Language Programming
Operating Systems
Mobile Computing
Fundamentals of Programming
Rapid Application Development
Publications
Research Interests
Bioinformatics and Computational Precision Medicine
IoT
Parallel Computing (CUDA)
Reviewer
International Conferences
Amalka Iloshini, P.A. , Wijesinghe, M.W. A. C. R., Kartheeswaran, T.  Weerasooriya, W. M. P. S., Dots Witer: Prediction of Potential Cancer Driver Genes using Hybrid Approach, IEEE-ICAC,2019, SLIIT.
Yanusha M., Kartheeswaran,T.,Lojenaa,N., Usability and Accessibility Analysis of Online Banking Systems in Sri Lanka, IEEE-ICCIC,2018, IEEE
C.M, Wijerathne.G.S , Fernado.P.E, Kartheeswarn.T, "Detection of Solar Flares Using Image Processing Techniques", 2017,ICSIP-2017. Mysore, India pp 84-87
Kartheeswaran,T, Gopinath,S, Lojenaa,N, Senthooran,V, "Usability and Accessibility Analysis of Government of Websites of Sri Lanka" ,2016, IEEE TENSYMP 2016, Bali Indonesia
Sharad B. Jadhav, Shriram D. Raut Vikas T. Humbe, T. Kartheeswaran, "A Low-Cost Contactless Palm Print Device to Recognize Person based on Texture Measurement" Savitribai Phule Pune University Sponsored National Conference on "Mechatronics",2016
National Conferences and Abstracts
Bavaram, K; Kartheeswaran, T; Edwin Linosh, N, "Counterfeit Arduino Board Detection Using Image Processing", Vavuniya Campus, Faculty of Applied Science, First Annual Research Session – 2020, 02 December 2020.
Jayanitha,S.,Kartheeswaran,T.,Ethical, Legal and Social Issues in Bioinformatics Applications, VCIRS-2019, Vavuniya Sri Lanka., pp 76-81
Jerom,Y. Kartheeswaran, T. , Phone Usage Pattern Analysis Towards Service Enhancement, ResCon – 2019, pp 44
Herath,H,M,P,K, Karunarathne, A,G,C, Liyanage,R,L.;Kartheeswaran, T, Etampawala,T and Ranasinghe,R,M,I,S. "Characterization of the Mechanical Behavior of Packaging Material Using Digital Image Processing". IRSUWU-2018, Badulla, Sri Lanka.,pp 110
Kartheeswaran,T Lojenaa,N Vaishali,R Shathana,R ,"Memory Wastage analysis using variable Alignment", 2015,ICBI-2015 ,22 November 2015.
Kartheeswaran,T ,Ketheesan,T , "Computational Classification of Molecular Expression of Thyroid Cancer", SLSWCS-13 ,2013 ,14 December 2013.
Kartheeswaran, Mathialakan,T , "A Software Tool for Monitor the Event-Related with Print and Directory in a Computer System", 3rd Vavuniya Campus Annual Research Session, 2010, Proceedings ISBN-1800-4911,pp16, 27 October 2010.
Awards
Best Performance Award in M.Sc. in Computer Science (Peradeniya, Sri Lanka)