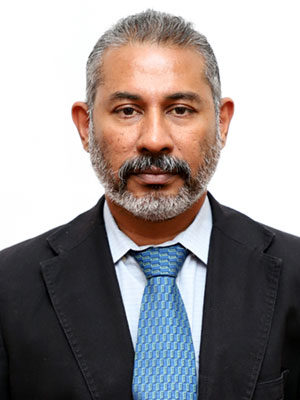 Dr. S. Wijeyamohan
Senior Lecturer Gr. II
Head, Department of Bio-science
+94 24 222 5336
headbio@vau.ac.lk
HEAD'S MESSAGE
It's great pleasure to welcome you to the Department of Bio-science, Faculty of Applied science, Vavuniya Campus of the University of Jaffna. The Faculty of Applied Science as an academic organization has a flexible, friendly and conducive internal environment that allows for effective teaching, learning and research. The Department of Bio-Science is one of the Departments in the Faculty of Applied Science (FAS) of the Vavuniya Campus of the University of Jaffna, commenced in 1997. The major objective of the Department is to train the undergraduates to suit the latest trends in the industry, research and development of the national economy through coursework, practical sessions and research projects. The department facilitates to offer degree program in Bachelor of Science Honors in Environmental to undergraduates.
The Syllabi has been designed with multi-disciplinary courses in Environmental Science emphasizing on Applied Biology, Environmental Chemistry, Earth and Climate Change, Environmental Economics and Informative and Natural Resource Science. The course units were assigned as notional hours focusing Student Centered Teaching (SCT) and Out Based Education(OBE) with theory , practical session, field visits , research and industrial training.
This is a golden opportunity in your life to apply your knowledge, intelligence and abilities toward the scientific inventions and technological developments. Hence, better utilize your chance. Best wishes for become a competent student of the faculty.